66.
Vernon, Ursula:
Dragonbreath
I bought this because I like Ursula Vernon's drawing style and thought this might be fun to have in our class library for my ESL students. While the drewings did not disappoint I'm not sure that my ESL students will understand the language well enough for them to be reading this book, and the ones who do might find this a bit too juvenile. The ones old enough to have past the mortal coolness threshold would benefit from trickier stuff, so I am not sure what to do with this apart from giving it to my wife, who adores all dragons.
65.
Lowry, Lois:
The Giver.
The experience of reading about this dystopian future of a society which has embraced Sameness and assigned spouses, children and jobs and a very strictly regulated, safe life devoid of choices ages well.
I think it makes sense that I loved it when I was eleven, but I am not sure that my students would still enjoy it as much as I did. I'm also very apprehensive about the movie adaptation, because Jonas looks quite a bit older in that one, so I am rather sure that Gabe did not make the cut and they'll focus more on Jonas and his budding lust for Fiona.
64.
Harris, Joanne:
Runemarks
.
Completely blew my mind in some parts and bored me in others. What a wild, unpredictable ride! The characters were fun, though I didn't really far for those not Maddy, Loki, Skadi or Hel.
I didn't like Maddy's relationship with her believed biological faster, it seemed too distant to be entirely realistic to me. I'm also not too find about the axe someone seems to have tho grind with Christianity.
63.
Kirkman, Robert and Moore, Tony:
The Walking Dead Vol.1: Days Gone Bye.
You probably have to like comic books to get like this. In this one, zombies and people with breasts or with muscles do things that ordinary people with intact brains (living or dead) most likely wouldn't do.
The artists don't look at women the way they do at men. Men have various looks and have diverse features, women have large breasts and make-up in spite of the apocalypse (no, female eyes don't naturally look like that). They can't draw fat women worth a damn, too, but, er, points for trying. All in all you get 2D male characters and 1D female characters (with DD breasts, though). You also a really oddly placed gratuitous sex scenes out of nowhere with full-page female nude panels and female characters reflecting on the fact that she is only staying with her partner because he's so good at sex. Sure, sure.
So, all in all, you get the picture of the target audience is and why I'm not it. If something contains enough sex and gore to make the target audience adults I expect the content to be more mature, too, and less concerned with "Yay, boobs!" or "Cor, all the brains are gooing out! Yeuch!".
All in all, I'm fairly surprised, butt his has nowhere near the depth or emotional impact of Telltale's rendition, something which I also missed in the TV series.
62.
Gaiman, Neil and Vess, Charles:
Instructions
I love this poem, and I really enjoy the illustrated version.
61.
Pritchard, John:
Going to church: a user's guide.
Interesting tidbits on the stages of faith, and the different kinds of vicars and churches.
60.
Kerman, Piper:
Orange is the new Black
.
I like the non-dramatic nature of this account. What does bother me still is that it takes this white middle class woman to make people care about the prison system and prison life. I
can't BELIEVE what they did to Piper's and Pennsatucky's relationship in the TV series, for example. It makes much more sense in the book.
I also loved the chapter on Mother/Daughter surrogate constellations in prison because that sort of bonded hierarchy is very in keeping with what I've observed in (obviously far less restrictive) women-only groups."
I'm not surprised, but still confused why the TV series would eroticise and dramatize Piper Kerman's stay to this extent. Of course lesbian sex sells, but if it wasn't part of Kerman's day-to-day reality in prison the way it is in TV OITNB, why force it in?
59.
Ngozi Adichie, Chimamanda:
Americanah.
I had a long review written for this, but it disappeared. The short version: Culture, continents, integration, finding yourself and race in Africa vs. race in the USA, this book had everything. I didn't really like the ending, which I found a little too convenient, but overall, it is a great read.
58.
Vermes, Timur:
Er ist wieder da
(and Christoph Maria Herbst as a narrator)
In this critical comedy Hitler is back in 2011 and finds fans on YouTube and on TV.
This is a dangerous book, although I think that it does nail certain trends that do open people up to extreme movements and how prone people still are to fall for rhetorically clever extremism that is not too on the nose and can blend in.
It's also not unhelpful to see that people you find funny can be responsible for horrible, terrible crimes. I would like to believe that this helps people to realise that you have to have a differentiated, critical view and really listen instead of making but based blanket statements of "Vegetarians who like children can't do wrong", "I've known that guy all my life he would never" up to "well maybe it wasn't all bad".
However, in the current climate that glorifies villains and their sop stories to explain away their crimes and instead swerved to humanize the criminal and take away any focus on the victims, who often stay faceless.
57.
Wiedmann, Anna and Daniel: Fuck you, Kita!: Eine unglaublich wahre Geschichte.
Teacher and person doing "something with media" have a child, search for a place in one of the kindergartens, find out what a hassle that is and how crazy kindergartens can be these days, and recont episodes of their daily lives as new parents.
( Read more... )
56.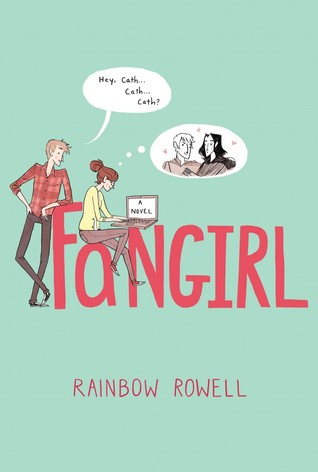 Rowell, Rainbow:
Fangirl
Shy young woman goes to colleague, is shy, finds friends delivered to her dorm room, meets young men, falls for young man, dates young man. Oh and also she's a twin and her father's mentally ill and her mother left her when she was eight. I really enjoyed those second bits about the main character befriending her much more interesting roomie, or the complex relationship she has with her absent mother, or her twin. I did not enjoy (read before) fanfic, which sadly showed up too much for my liking. Or the bits about her love life.
( Read more... )
55.
Benni-Mama:
Große Ärsche auf Kleinen Stühlen
The mother of toddler talks about her attempts at trying to provide her son with one of the rare places in Berlin's kindergartens. She only succeeds in getting him into a
Kinderladen
, the kindergarten of a parents' initiative who funded their own. There, she encounters helicpoter parents, parents overly invested in their children's diet, as she puts it: "The only normal people in a kindergarten are the children." It's meant to be funny, and is, but the gender norms are really scary. If this book can be trusted, the default is still that the mums are the ones that bear the brunt of the work.
54.
Bridges, Robert (ed.) Gerard Manley Hopkins: The Complete Poems
I have to admit that I skipped the platonic dialogue. This is a very readable edition of the poems which I had hoped would feature more annotations.
( Read more... )
53.

Wales: A Nation in Verse.
To start of with something positive: this collection of poems has the always pleasing Welsh dragon on its cover.
( Read more... )
Current Location: Germany, Bremen