92.
Hornby, Nick:
Funny Girl
The lives and exploits of comedy wireless and TV writers in the sixties. This part of the book I adored- the characters were believable and lovable, the plot funny and engaging. I was not too keen on their last hurrah in the 2000ies, but I can see the merits of this ending.
91.
London, Jack:
White Fang
Doesn't everybody want to be Weedon Scott? I remember reading this when I was around ten and disliking it because there were hardly any female characters who interacted with White Fang, while my experience with my household and raising dogs was that most of the work was done by my mother-the-hunter and grandmother, though that was mostly due to the fact that my granddad, also a hunter, was a disabled WWII veteran.
I love White Fang and the dignity Jack London lends to his animal characters, though White Fang's body count is a bit worrying. I'm also not convinced that a dog as badly mistreated as White Fang would recover so quickly, but who can resist this scene:
"What of his joy, the great love in him, ever surging and struggling to express itself, succeeding in finding a new mode of expression. He suddenly thrust his head forward and nudged his way in between the master's arm and body."
Awwww.
90.
Katja Schwarz, Katja; Trost, Rainer:
Kinder Und Jugendliche Mit Autismus-Spektrum-Storung: Neue Wege Durch Die Schule
A lot of the content of this book weren't really news, but it was an interesting overview of the more specific needs of children with Asperger's. I'm very pleased to note that a lot of the things mentioned as helpful in this book are things that I already do, since I consider clear language and structure to be something that most students find very beneficial.
Other things (replacing oral with written assignments, for example) I found less helpful for my subject (languages - you do have to talk sometimes, and the kids with Asperger's I teach right now hate writing and love speaking (it's the language they speak on Star Trek!) or don't mind it).
Still, I was very glad to be reminded of the basics again and be able to recheck whether I was still sticking to things that are helpful for students with this symptom and that make my classes safe for them.
89.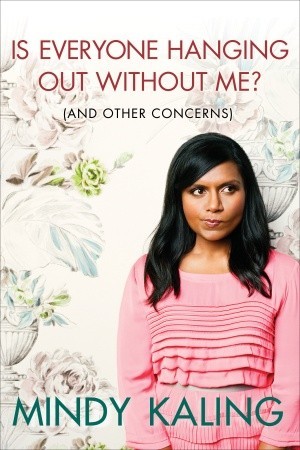 Kaling, Mindy:
Is Everyone Hanging Out Without Me?
As someone who neither watches SNL nor The Office it surprised me how much I still enjoyed this biography.
88.
Frau Freitag, Frl. Krise:
Der Altmann ist tot
This was a very slow crime novel in which two teachers who usually work at a school in a multicultural and "difficult" part of Berlin solve the murder of a sleazy colleague of theirs. They are helped by former students, friends, boyfriends, and whole lot of "coincidences" that make this book very hard to buy.
As usual, they get the language students use spot on and it is funny, but especially during their various dress-up games they're less convincing than The Three Investigators (which might be a German thing? Does any one else remember the three investigators and their disguise shenanigans...?). I dis not buy it. Their attempts at sleuthing are fumbled and its a miracle they don't get in more trouble than they do, the resolution is foreseeable.
They also treat a close friend ("Onkel Ali") pretty exploitatively, using him as bait for one of their plots and then teaching him how to "be Turkish" to get rid a suspects unwanted romantic advances, and since they're middle-class Germans with German ancestors this seems... off.
87.
Sprenger, Marilee:
Damit was hängen bleibt
Nothing entirely new in these seven steps for more effective learning, and the examples don't really fit my subjects and generally always require more prep-time than I have for any classroom I teach in, but the general gist is helpful and presented in a motivating way. I can't see any of this implemented any time soon, though, as long as everything in our work depends entirely on every person's individual intrinsic motivation to do better than before and does not come with regular team meetings - at least at my school. Innovating alone surely isn't effective.
86.
Maitland, Karen:
The Vanishing Witch
Was alright. I didn't really get that attached to the characters living in the city, but did feel for the rebels.
85.
Carey, M. R.:
The Girl With All the Gifts
The zombie apocalypse from the point of view of a gifted pre-teen. Who could resist! The characters all make sense and are complex and compassionately portrayed, with their flaws and motivations.
The resolution of the book was fitting with the premise of the book, but really depressing. As always in a zombie apocalypse setting it isn't advisable to get too attached to the characters, but as always, I did, anyway.
Also, to the end, I wasn't sure who to root for, whose new beginning to hope for in this end of the world.
84.
Mats; Bergmark Elfgren, Sara:
Feuer
I'm a hopelessly devoted fan. Developed female teenage characters with believable flaws and interactions and insecurities and strength and growth who continue to be badass. And have magic. And save the world. While struggling with school and parents.
( Read more... )
83.
Strandberg, Mats; Bergmark Elfgren, Sara:
Schlüssel
Back in Engelsfors, the remaining Circle witches are still busy trying to stop the apocalypse. Can they trust the strange forces trying to protect them? What about the Council, can they be trusted after all when they offer help? It is engaging enough for me to keep reading so as to finish it in two sittings and is still as character-driven as the first two instalments.
( Read more... )